Executive Director
Jacqueline Kapaj-Vieira
Jacqueline Kapaj-Vieira founded and launched the Albanian-American Educators Association in February 2015.
She has served NYC's educational system in many different capacities: as a teacher, administrator, professional developer and program coordinator.   She started her educational career in the parochial schools where she taught elementary school and then moved into public education where her teaching and administrative experiences have spanned the  educational levels of elementary, middle, high school and adult education for over thirty years.  Jacqueline enjoys her work with children and is excited to work with educators who are dedicated to improving the quality of education for students. She welcomes new experiences that provide a venue to learn, grow and enrich the lives of others. She is especially proud of her Albanian heritage and aims to preserve the values, belief and ideas present in the Albanian culture that her parents have imparted. She is an advocate and proponent for the advancement of the Albanian immigrants and started AAEA to promote, recognize, and serve Albanian Americans.
2016 - Teacher of the Year Award –Albanian-American Women's Organization (AAWO)
---
Nereida Rama 
I am honored and delighted to serve on the board of AAEA, a forum with a mission to promote education and life-long learning. My professional trajectory has been shaped by my graduate studies in the field of Education and my work in the field of teaching and training and development. Currently I work for the New York City Department of Education teaching French language and literature. I hold a Master of French studies from the University of South Carolina and a Master of Education from Teachers College, Columbia University. In addition to teaching and curriculum design, my areas of research and interest include mentoring, organizational psychology, urban and immigrant education, intercultural communication, education and sociology. Our organization offers a powerful, network of people and possibilities, and it's awe-inspiring to see what we can do  together  to serve and benefit each other and the community.
---
Margaret Paccione 
As a mother of three, and a grandmother of a school-age child, I have been proactive in school affairs and events by volunteering my services on PTA and school committees. I currently am a member of OSHS Parents Advisory Committee where I work closely with school officials. I find that I gravitated toward organizing and collaborating with teachers to help create numerous events that center on diversity, harmony and celebrating different cultures. Having close ties to the Albanian community, I am excited to serve on the board of AAEA.  As a staunch supporter of education, along with more than 20 years of professional experience in finance, I look forward to using my skills to benefit and enrich AAEA.
---
Elizabeth Sadik
As a first generation Albanian American, born and raised in New York City, she studied Design at the Fashion Institute of Technology (FIT). Elizabeth has extensive experience in business that includes investor, manager, restaurateur and designer. She  is a proponent of education and has played a proactive role in educational programs, events and school committees. She is the entrepreneurial venture capitalist behind the Queens, NY, educational preparatory company, Townsend Tutors, an organization specializing in tutoring and test preparation. Elizabeth was Co-President of the esteemed Townsend Harris High School PTA, and member of the School Leadership Team and Special Advisory Team providing leadership and advocacy efforts to drive forth school initiatives to promote quality education.  She also served a parent volunteer at the United Nations School promoting arts and education. Elizabeth has a passion for helping others and looks forward to increasing her involvement with the Albanian Community.
---
Lucrezia Lindia
Lucrezia Gioia Lindia is happy to join the team as board member of AAEA. She is Arbreshe, an ethnic Albanian having grown up in Frascineto (Cosenza), an Italian community in southern Italy. Lucrezia studied Comparative Literature "Magistero" at Rome University prior to immigrating to the USA. She is a teacher of Italian and the Foreign Language Chairperson at Eastchester High School in New York. She is also an instructor at Westchester Community College. Her educational career has spanned over 40 years in the public sector. Her teaching experience encompasses teaching on the High School level in Westchester County, New York. Ms. Lindia also teaches on the college level having taught at New Palz (SUNY), and La Scouola Italian at Middlebury College.
Her professional activities, among a few, include President of the Italian Teachers Association, President of the National Italian Honor Society and New York State Regional Representative.  Some of her other professional activities include SAT Italian Test Development Committee and Chair of the Committee with the College Board. Ms. Lindia has authored several books, and has published numerous pedagogical articles. She has also served as consultant, trainer, mentor, examiner, and lecturer at conferences, and educational organizations. She is the recipient of numerous honors and awards from local, national and international organizations.
---
Erika Ejlli
Erika Ejlli is a senior and honor roll student in high school who works hard and enjoys learning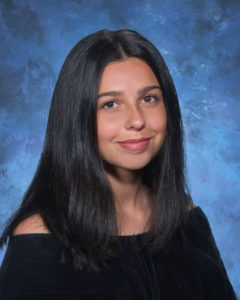 and working with people. She has worked on numerous internships that involve her passion for computer science and was captain of the Robotics Team at her school. In addition to her studies, she has interned with Google, Girls Who Code and PepsiCo. She founded the Albanian club at her school where she works with classmates to teach Albanian culture to other students. She is an avid athlete who enjoys track and soccer.  She has been instrumental in working with AAEA. She is grateful for the opportunity to work closely with educators and is enjoying her new experiences. She is looking forward to moving onto college next year.