Meet Our Team
Executive Director
Jacqueline Kapaj-Vieira
Jacqueline Kapaj-Vieira has served NYC's educational system as a teacher, professional developer and school level administrator for over thirty years. She enjoys her work with children and is excited to work with people who are dedicated to improving the quality of education while welcoming experiences that provide opportunities to learn, grow and enrich the lives of others. She is proud of her Albanian heritage and aims to preserve the values and traditions present in the Albanian culture that her parents have imparted. She is an advocate and proponent for the advancement of the Albanian immigrants and started AAEA to promote, recognize, and serve Albanian Americans.
---
Nereida Rama
I am honored and delighted to serve on the board of AAEA, a forum with a mission to promote education and life-long learning. My professional trajectory has been shaped by my graduate studies in the field of Education and my work in the field of teaching and training and development. Currently I work for the New York City Department of Education teaching French language and literature. I hold a Master of French studies from the University of South Carolina and a Master of Education from Teachers College, Columbia University. In addition to teaching and curriculum design, my areas of research and interest include mentoring, organizational psychology, urban and immigrant education, intercultural communication, education and sociology. Our organization offers a powerful, network of people and possibilities, and it's awe-inspiring to see what we can do together to serve and benefit each other and the community.
---
Margaret Paccione
As a mother of three, and a grandmother of a school-age child, I have been proactive in school affairs and events by volunteering my services on PTA and school committees. I currently am a member of OSHS Parents Advisory Committee where I work closely with school officials. I find that I gravitated toward organizing and collaborating with teachers to help create numerous events that center on diversity, harmony and celebrating different cultures. Having close ties to the Albanian community, I am excited to serve on the board of AAEA. As a staunch supporter of education, along with more than 20 years of professional experience in finance, I look forward to using my skills to benefit and enrich AAEA.
---
Elizabeth Sadik
As a first generation Albanian American, born and raised in New York City, she studied Design at the Fashion Institute of Technology (FIT). She is a proponent of education and has played a proactive role in educational programs, events and school committees. Elizabeth was Co-President of the esteemed Townsend Harris High School PTA, and member of the School Leadership Team and Special Advisory Team providing leadership and advocacy efforts to drive forth school initiatives to promote quality education. She also served as a parent volunteer at the United Nations School promoting arts and education.
---
Lucrezia Lindia
Lucrezia Gioia Lindia is happy to join the team as board member of AAEA. She is Arbreshe, an ethnic Albanian having grown up in Frascineto (Cosenza), an Italian community in southern Italy. Lucrezia studied Comparative Literature "Magistero" at Rome University prior to immigrating to the USA. She is a teacher of Italian and the Foreign Language Chairperson at Eastchester High School in New York. She is also an instructor at Westchester Community College. Her educational career has spanned over 40 years in the public sector. Her teaching experience encompasses teaching on the High School level in Westchester County, New York. Ms. Lindia also teaches on the college level having taught at New Palz (SUNY), and La Scouola Italian at Middlebury College.
Her professional activities, among a few, include President of the Italian Teachers Association, President of the National Italian Honor Society and New York State Regional Representative. Some of her other professional activities include SAT Italian Test Development Committee and Chair of the Committee with the College Board. Ms. Lindia has authored several books, and has published numerous pedagogical articles. She has also served as consultant, trainer, mentor, examiner, and lecturer at conferences, and educational organizations. She is the recipient of numerous honors and awards from local, national and international organizations.
---
Edit Shkreli
Edit Shkreli was born in Shkoder, Albania and moved to New York with her family over twenty years ago. She is an attorney licensed to practice law in both the State of New York and the Republic of Albania. Shortly after her admission to the New York State bar, Edit oversaw the Department of Foreign Investments at the Mayor's Office in Tirana, Albania which was responsible for the city's major development projects. In the last eight years, she has served as a principal law clerk to Supreme Court Justices handling various civil matters, including commercial litigation and matrimonial actions. She is also an adjunct professor at New York Law School where she teaches the course "Drafting Contracts". Edit obtained her Bachelor of Arts from Hunter College and her juris doctorate (cum laude) from New York Law School. She enjoys hiking, biking, volleyball and off-the-beaten-path travel experiences.
---
Katerina Muckalli
Katerina Muckalli serves as our organization's website manager, where her expertise in both Albanian and Greek languages enhances her professional reach.
Katerina pursued her higher education at the New York State University at Albany, graduating with a degree in Business and Marketing. She currently holds the position of Data Operations and Strategy Manager at a well-known media and publishing company, where her analytical skills and strategic thinking drive innovation and growth. Prior to this role, she served as a Marketing Technology Liaison and Client Relations Management Specialist, a position where she honed her abilities to forge lasting relationships with clients and partners.
---
Rafaela Rica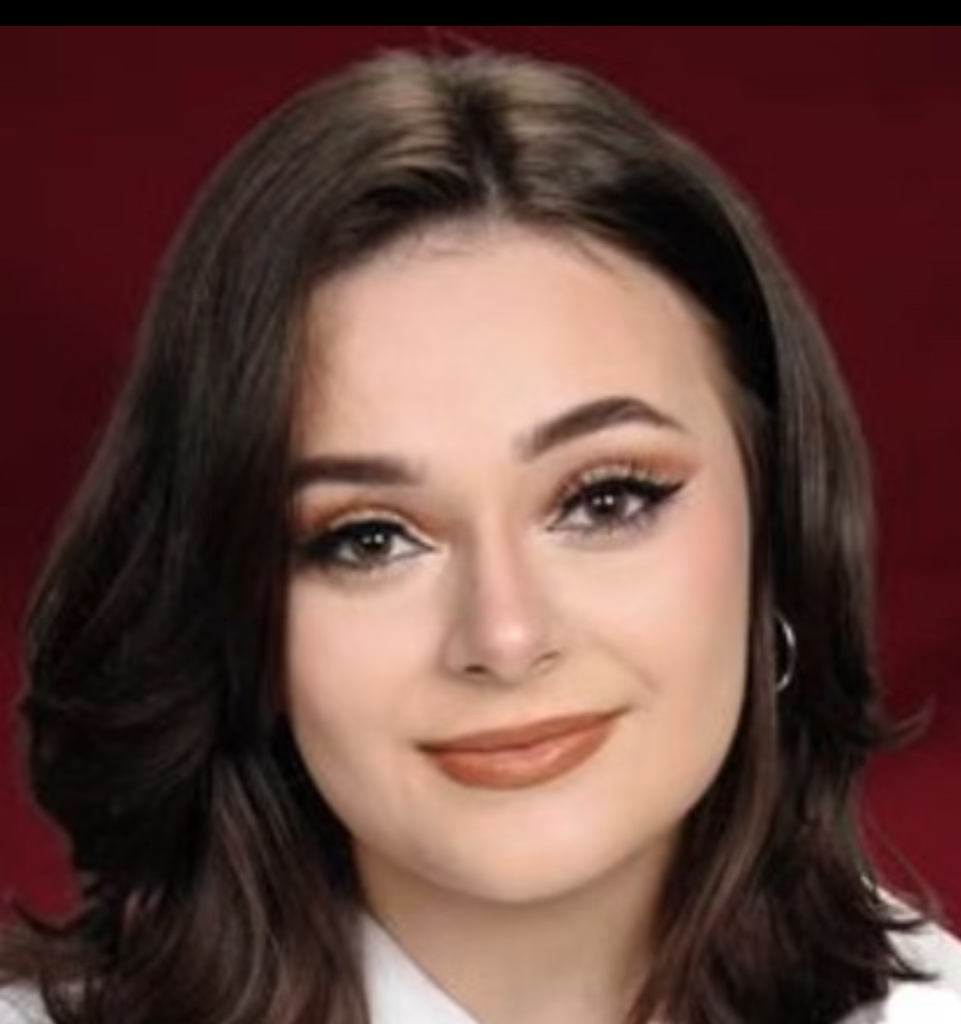 We are pleased to welcome Rafaela to our team as she completes her 2022-2023 internship with AAEA. Currently she is a senior in High School and is planning to attend college next year. He desire is to pursue a degree in Business and Psychology while minoring in Marketing. Rafaela is an excellent student both in her academic school work and in dance. She is captain of the school Albanian Dance Team and director of the Drama Club where she is able to express her love for the performing arts. Her creative abilities also carry over to her love for drawing and art. She is an avid reader who enjoys reading fictional horror stories in her spare time. Rafaela is happy to be working with AAEA and looks forward to dedicating more time to learning and sharing her Albanian culture and all its representation.
.