The Albanian American Educators Association is delighted to announce the winners of the 2021 AAEA Scholarship chosen by the Scholarship Committee. One AAEA scholarship was awarded this year, however we are happy to share that AAEA was endowed with two memorial scholarships to honor and commemorate Alexander Thomas Delic and Gabriella Pereya. We are thankful to their families for bestowing honorary gifts to deserving Albanian students. Our winners demonstrate beneficence, outstanding academic performance, have composed excellent essays and will be attending college in September. Congratulations to our wonderful winners!
: Congratulations to our 2021 Scholarship Winners!!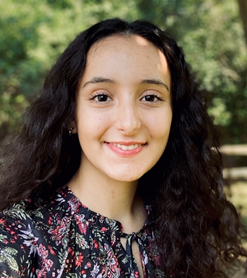 SHTILE SHUAIPAJ
Recipient of the AAEA 2021 Scholarship
Described by one of her teachers as, "a student who quickly distinguished herself as one of the most intelligent students in class who displayed an outstanding work ethic", Shtile ranked in the top 1% of her class, stayed on the honor roll her entire High School career and is a member of the National Honor Society. She is a dedicated member of the schools International Club, co-founder of the See Something Say Something program, Student Equity Action Committee, Book Club, Student Government, French Honors Society and Interact club, to name a few. Outside of school Shtile partakes in Albanian School and folk dance.
Shtile's essay entitled, The Importance of Besa, tells how the unprecedented events of this past year have made the Albanian virtue of Besa more important to her. Shtile describes Besa as "an ancient tradition that lies in the heart and soul of every Albanian", She shares that, "besa is a code of honor exclusive to Albanian culture that refers to Albanians' devotion and wholeheartedness toward keeping their word, giving kindness, and aiding anyone in their power," . To keep this tradition alive, Shtile believes, "that the ideals of besa are needed today more than ever. I do everything in my power to give my own besa each and every day. From serving underrepresented individuals in school activities to volunteering to provide food for the needy, I do my best to live up to the honor, kindness, and equality shown by my cultural background."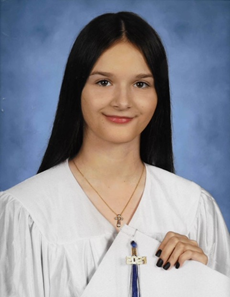 LISA MARDJONOVIC
Recipient of the Alexander Thomas Delic Memorial Scholarship
Lisa is described by her guidance counselor as " Highly motivated, driven and determined, demonstrating excellence in all that she does. " Lisa has earned a GPA of 98.4% while taking very challenging courses, is consistently on the Principal's List, is in the top 10% of her graduating class and has been inducted into the National Honor Society. As a leader at her school, she is a Student Council Executive member, Founder/President of the Albanian Club and Secretary of the National Awareness Club, where she organizes fundraisers and bake sales for cancer awareness. Among other clubs and committees she serves, Lisa fundraises with her family for people in need in Montenegro.
Lisa's essay entitled, Development in a Time of Quarantine, tells of how she turns difficulties of Covid-19 related challenges into opportunities for her personal development toward growing compassion for others.
Here is an excerpt from her essay: Despite all of the tragedy and devastation, this past year has taught me how important it is to always show kindness and respect to others. This pandemic has allowed me to recognize that not everything in this world is perfect for everyone because we all have a battle that we are fighting. Every single person has had their battles whether they were out in the open or private. While it is easy to forget, I have learned to remain mindful of others. You never know when a mother is mourning the loss of her child, when a daughter is left fatherless, when a man is left widowed, or when a sibling does not have their sister to rely on anymore. This new perspective on life has allowed me to grow closer to others while also making sure they feel supported at all times. I am happy to say that I have grown to become the shoulder that anyone can lean on over this quarantine.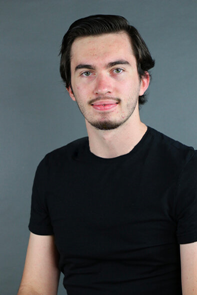 EMIR GJOKA
Recipient of the Gabriella Pereyra Memorial Award
"Emir exhibits the attributes of an exceptional student, intelligence, creativity and responsibility" according to one of his teachers. He has maintained an "A" average throughout his high school career. In advance science classes he is able to "internalize concepts and adeptly apply them to novel scenarios". He welcomes responsibility and is committed to his own success. His passion for the sciences make him an ideal candidate for the medical field. He is seeking a career in medicine, specifically in internal medicine with a keen interest in pathology." Emir has been accepted to a joint-degree program that will allow him to transition seamlessly from a bachelor's degree to a M.D. program.
In his essay, Emir shares his thoughts on how the Covid-19 Pandemic pushed society to its limits and gave him an opportunity to learn about his heritage. Describing 2020 as a "rollercoaster" year, he amusingly talks about how people were in a frenzy stockpiling on hygiene and health care products while his family rushed to buy beans. With little to do and so much time, Emir embarks on new hobbies that included a study on Albanian people, culture and history. He shares his discovery and inspiration of Abdyl Frasheri, a prominent leader in the 1800's and 1900's who instilled Albanian patriotism while promoting reform.
Emir feels that our current pandemic period has given him time to be introspective, giving him a renewed sense of pride. He believes "being Albanian means being courageous, honorable, respectful, welcoming and most importantly a person with Besa.