The Albanian American Educators Association is delighted to announce the winners of the 2022 AAEA Scholarship chosen by the Scholarship Committee. One AAEA scholarship was awarded this year, and one endowed memorial scholarship to honor and commemorate Alexander Thomas Delic and Gabriella Pereya. We are thankful to their families for bestowing honorary gifts to deserving Albanian students. Our winners demonstrate kindness, outstanding academic performance, have composed excellent essays and will be attending college in September. Congratulations to our wonderful winners!!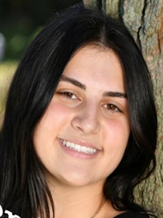 Kleovisa Gradicca
Recipient of the AAEA 2022 Scholarship
Kleovisa or Visa as she likes to be called, has achieved academic excellence and comes from a home where education and Albanian family values are cherished. Her guidance counselor has shared that "Kleovisa is a student that stands out among her peers for many reasons- the most being her maturity and caring for others". She enjoys math and history and is considering pursuing a career in law. Her driven nature comes from her athletic spirit in that she has played on school basketball and soccer teams. Kleovisa is an exceptional student which is reflected in her excellent grades that she has maintained throughout her high school career. She is graduating at the top of her class.
Kleovisa's essay entitled, A Silver Lining in the Midst of Chaos, tells of how the boredom of being quarantined during the Covid Pandemic not only forced her to spend an inordinate amount of time with her family but propelled her to learn more about them. By rummaging through old photographs her curiosity was piqued and the time spent being home with her parents turned into a priceless lessons where she learned about her parents and her heritage. She appreciated stories about their high school and college life, grandparents, their homes, and old friends. In addition, Kleovisa learned that her parents had documented journey to America. Learning about the Kosovo war and how it impacted her family proved to be profound and enriching. In concluding her essay she states, "So, while quarantine may have been a rough time for many of us I found an upside in it through learning more about my heritage and people who shaped me into who I am today".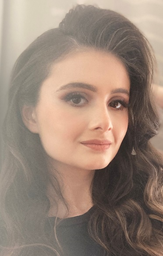 Doris Prela
Recipient of the AAEA 2022 Alexander Thomas Delic and Gabriella Pereya Memorial Scholarship
Doris immigrated to the United States from Albania at the age of 12 and is trilingual, speaking Albanian, Italian and English. She is graduating at the top of her class and pursuing her studies in Architecture. Her dream is become an architect and she believe that designing cities, towns and home is crucial to a country and civilization. While in high school she was proactive and involved in prestigious Architectural projects and programs that will help her reach her dream. Her counselor describes her as "a motivated, self-confident, intelligent and outgoing young lady with a generous and giving spirit who is always looking to do good in the world". She was very involved in her school and community, having volunteered to support people with autism and at a health clinic. Academically, she challenged herself with honors and Advance Placement Courses that placed her at the top of her class putting her is a position to consistently receive First Honors and belong to several academic societal groups.
Doris's essay entitled, The Missing Community and Belonging, talks about her migration to the United States from Albania and how meeting people from different cultures expanded her communication skills and her perspective on leaving her beloved country changed. She states, "my eyes opened up to the jewels and treasures that the world has to offer" when coming to America. However, being confined to her home during the Covid Pandemic led her into a space of self-reflection where she was able to examine living in two cultural worlds. Doris shares that although we are all unique, "we cannot separate ourselves from the grater umbrella of society". As someone who wants to pursue a career in in Architecture her essay talks about the societal impact urban design and planning has on people and she sees a great need to allow physical environments to connect humanity.